OLD ORIENTAL CARPET
BAGS AND ARTIFACTS 5
Many artifacts are woven for use in tents, huts and dwellings. Among the most numerous are rectangular weavings which are folded in half and stitched and then become cushions and pillows. A small opening is left on a long side sufficient for various fillings to be inserted by hand. Bags of all sizes range from the tiny which contain precious items of jewellery, spices or dried fruit to the huge which are filled with grain.
Saddle bags for transport of goods by horse or donkey are common.
Finely woven bags are still made as dowry pieces.
Many items of clothing are woven for every day, ceremonial and special occasions.
Please send any questions or enquiries to me at ldrowcroft@gmail.com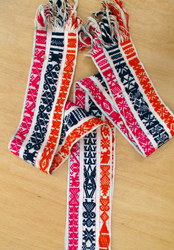 FLAT WOVEN SASH WITH EMBROIDERED DESIGN which I believe comes from Mexico or close by Central America where it was bought by the previous owner in 1982. The designs in wool are on a cotton foundation and are based on floral and superstitious forms and include several portrayals of girls or women in swirling dresses. Reference 3119. Size 248 x 13 cms., or 8ft. 2ins. x 5 ins. Euros 75.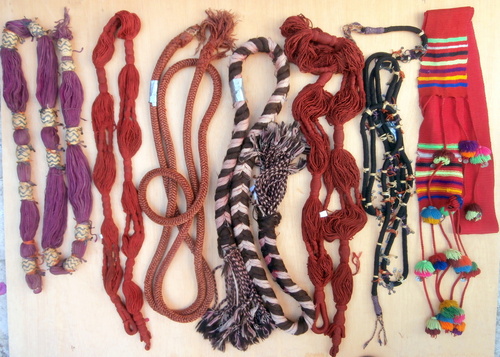 Collection of 7 rare Berber ceremonial woven belts - Woven for both Berber men and women and tied around the waist as part of the colourful clothes worn on special occasions. Details - from left to right - 1. All silk from the remote region of Zagora in the eastern High Atlas close to the Algerian border, length 200 cms, ref. 2697. 2. All silk and incorporating a fastening loop. This is Berber work from the High Atlas south of Marrakech. Length 190 cms, ref 2695. 3. Plaited wool very long belt which was made for a shepherd and would have been wound around his waist several times. It is from the region of Boujad, south west Middle Atlas. length 350 cms, ref 1948. 4. Two shades of wool twisted together make this short belt, again for a shepherd but this time from the region of Mrirt in the Middle Atlas. Length 95 cms, ref. 1931. 5. All silk, incorporating the fastening loop and ball, for a Berber women from the High Atlas south of Marrakech. Length 166 cms, ref. 2694. 6. Finely twisted, bound at intervals with silk and adorned with metal discs - this is from the Djebel Siroua region of the Pre-Sahara in the deep south of Morocco. Length 450 cms, ref. 1950. 7. Very unusual eastern High Atlas region belt. The madder coloured foundation is actually knitted by men of the tribe. It is the task of the women to card, spin and dye the wools. Knitting garments, especially those to protect from the bitter cold, is carried out by shepherds on both sides of the Algerian/Moroccan border. Length 260 cms long and 10 cms wide. Available singly or as a collection. See entry on Rugrabbit. Prices from euros 48 to75. Whole collection euros 385.