OLD ORIENTAL CARPET
BAGS AND ARTIFACTS 5
Many artifacts are woven for use in tents, huts and dwellings. Among the most numerous are rectangular weavings which are folded in half and stitched and then become cushions and pillows. A small opening is left on a long side sufficient for various fillings to be inserted by hand. Bags of all sizes range from the tiny which contain precious items of jewellery, spices or dried fruit to the huge which are filled with grain.
Saddle bags for transport of goods by horse or donkey are common.
Finely woven bags are still made as dowry pieces.
Many items of clothing are woven for every day, ceremonial and special occasions.
Please send any questions or enquiries to me at ldrowcroft@gmail.com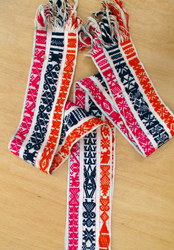 FLAT WOVEN SASH WITH EMBROIDERED DESIGN which I believe comes from Mexico or close by Central America where it was bought by the previous owner in 1982. The designs in wool are on a cotton foundation and are based on floral and superstitious forms and include several portrayals of girls or women in swirling dresses. Reference 3119. Size 248 x 13 cms., or 8ft. 2ins. x 5 ins. Euros 75.