OLD ORIENTAL CARPET
KILIMS AND FLAT WEAVES 2
THIS SECTION shows a selection of flat woven rugs often called kilims. Sometimes they are just a plain weave with different colours and designs but they also frequently are embellished with designs in knotted pile and various forms of embroidery.
In Morocco, larger pieces are known as "hanbels" and smaller ones which are used for capes are "handiras". Flat weaves are used extensively in dwellings as curtains, covers and bedding. Capes are used to counter the intense winter cold in the mountains. Small pieces are used as horse covers and decorations
This group of weavings is for use in daily life and also for ceremony and special occasions.
Please send any questions or enquiries to me at ldrowcroft@gmail.com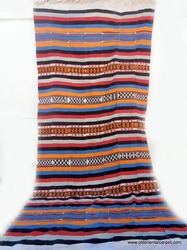 KILIM / FLAT WEAVE called "Kpoke" and woven by the Mende people in Sierra Leone in West Africa. The women of this group spin the fine cotton required for these kilims but the actual weaving is done by men. Width is achieved by joining together the long strips of cloth and depends on the use the piece is woven for. The colors are wonderful and bright. It will make a versatile throw, sofa or table cover or wall decoration. Reference 2741. Size 287 x 125 cms., or 9ft. 5ins. x 4ft. 2ins. Euros 125. Shipping depends on destination.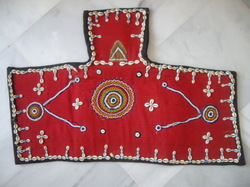 VERY UNUSUAL WEAVING, thought to be a table or altar decoration from the Democratic Republic of Congo. The materials used - cotton front, raffia back, cowrie shells and many beads are all found in weaving from this country. Fascinating table cover or wall mounting. Reference 2406. Size 59 x 88 cms., or 2ft. x 2ft. 11 ins. Euros 48 plus postage.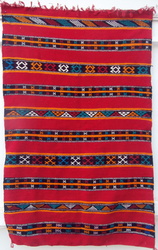 MOROCCAN BERBER KILIM which is a finely woven piece from the region of Zemoour in the western Middle Atlas. Many kilims from the villages in this area are brought to the carpet bazaar in Khemisset for the weekly rug day which is Tuesday. Qualities vary enormously and weaving of this degree of fineness is unusual. The many embroidered bands are complicated yet very well balanced. Ref. 2931. Size 150 x 100 cms., or 5 ft. x 3 ft. 4ins. Euros 135.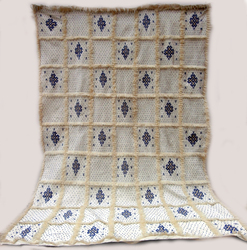 MOROCCAN BERBER KILIM which was woven and beautifully embroidered to serve as a wedding blanket. Of the sixty three squares 32 have about 100 blue beads attached in rows. The remaining 31 squares have an exquisite design embroidered in the centre and about 90 of the same blue beads have been individually attached by hand. In all, nearly 6000 beads have been used. Each square is surrounded on four sides by a row of knots of undyed, hand spun, white wool. Reference 2937. Size 275 x 200 cms., or 9 ft. x 6 ft. 6 ins. Euros 325.