OLD ORIENTAL CARPET
HOME.
THESE PHOTOS SHOW TYPICAL SCENES OF BUYING RUGS IN CENTRAL ASIA AND NORTH AFRICA.
To visit our separate Moroccan bazaar go to www.moroccancarpetsandcrafts.com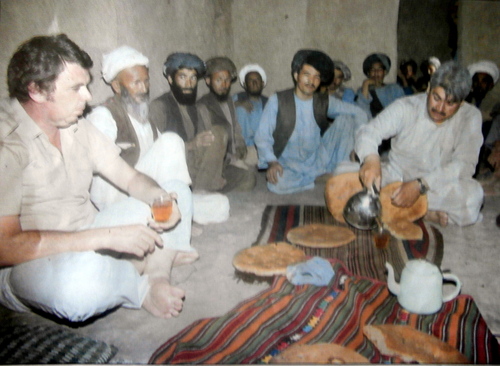 SHARING BREAD AND TEA before buying rugs from Afghans in the North West Frontier between Afghanistan and Pakistan.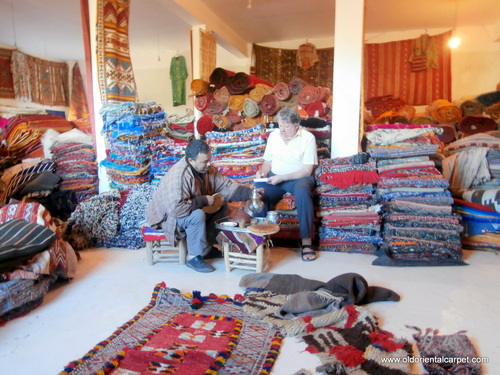 AS ALWAYS, BREAD AND TEA PRECEDES EVERY DISCUSSION. Buying rugs from a Berber in the High Atlas mountains in Morocco.
EVERY RUG BOUGHT IS CAREFULLY EXAMINED, front and back, to assess the quality, the weave, materials and dyes.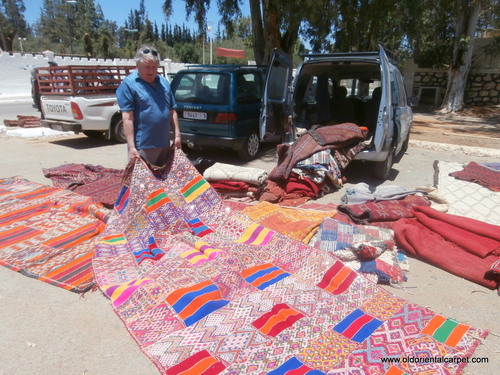 EARLY MORNING WEEKLY RUG MARKET in a small town in Morocco's Middle Atlas mountains. The early birds get the best choice.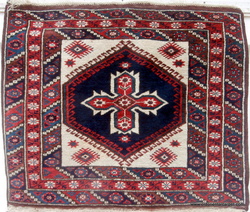 TURKISH RUG from the region of Antalya which lies in south central Anatolia (Asiatic Turkey). This type of rug is called "Docemalti". The colours are deep and rich and make the dark central medallion almost three dimensional. The wools are soft and lustrous and the whole piece complete and original. The square shape makes it very versatile and it can be used as a table cover, throw, wall hanging and area rug. Reference 2739. Size 92 x 111 cms., or 3ft. x 3ft. 8ins. Euros 135.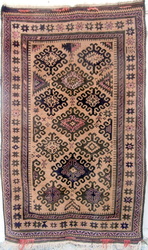 BELOUCH / BALOUCH RUG which is probably from the Taimani group in western Afghanistan. It is an old piece and is dated in 3 places AH 1348 which is AD 1929. There is corrosion in the black commensurate with age and the rug has even pile and is intact with the original goat hair overcasting, kilim ends and remnants of ornamental tassels. Reference 2631, Size 200 x 122cms. 6ft.6in. x 4ft. Euros 248.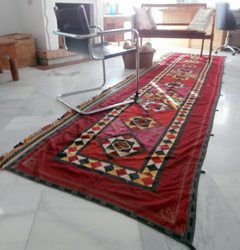 TENT TRAPPING from Uzbekistan. This very long silk embroidered cotton band is called a "Sardevor" and is made up as a patchwork of pieces. It would have been the band which hung at the top of the interior walls of a yurt where they met the roof. It is complete with the original loops used to hang it in place and has a beautiful hand made bottom decorative edge. Although it dates from the mid 20th century and has been used it is in perfect condition. An early 20th century wall hanging using the same technique, and having the same design elements, is shown as plate 400 in the authoratative text book "Uzbekistan" by Johannes Kalter and Margareta Pavaloi. Reference 2955. Size 419 x 97 cms., or 13ft. 8ins. x 3ft. 2ins. Euros 550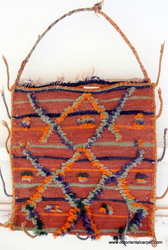 MOROCCAN BERBER HIGH ATLAS BAG. Sometimes these bags, known as "aalau" are woven in pairs and used as a gift from the bride's mother to her daughter and son-in-law. It is the work of the Ait Bou Ichaouen Berbers of the far east High Atlas. It is old and in great condition with original tassels, overcasting and handle. It was probably subsequently used to store jewellery and precious items. The design is of repeated Berber fertility symbols. Reference 2646. Size 37 x 36cms. 1ft.2in.square. Euros 67.