EL BAUL, ARTIFACTS AND ANTIQUES, by Michael Martin.
MAIN PAGE.
Welcome to El Baul, my Antiques Gallery which was opened 42 years ago and is very active buying and selling pieces locally and internationally. When it was more appropriate I consigned important pieces to the major auction houses in London. Now, because of the break up between the EC and UK, there is so much red tape and extra cost for both clients and us we use the much more efficient auction houses in Paris, Scandinavia, Boston, Germany and Madrid, among others for both clients and ourselves. Currently I am working with a UK university and a Spanish museum who want to borrow pieces I found locally for five year study and display programmes.
Please browse the pages to see fascinating rugs, artifacts and antiques for your decor, enthusiasts and collectors.
The sequential problems of financial crises, followed by the covid period and now the uncertain future of inflation and recession have shown that careful planning for the future, retirement, re-location, downsizing, bequeathments etc. is very important. The establishment of a true and realistic value of assets is a vital part your plans. You may decide to sell some. We can show the options and the most suitable venues.

We offer a totally FREE service of appraising your hand woven rugs, textiles, artifacts and antiques. This includes information on type, origin, purpose, condition, age and realistic current value.
For members who would like to sell one, or some, or indeed the entire contents of their home, we can buy all the items and clear contents completely.
Here are some photos of the El Baul Gallery where you will always be welcome.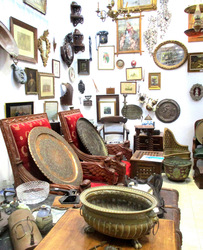 Ever wondered how a steam train number plate from Kilmarnock in Scotland came to Torremolinos?. Look for the oval grey metal plaque, dated 1940, hanging on the back wall.