SMALL/MIDDLE RUGS2
SMALL/MIDDLE RUGS2
Here you will find a mixture of smaller and middle sized rugs from Central Asia and North Africa with lengths up to 275 cms., or 9 feet, (108 inches) with varying widths.

Please send any enquiries to me at ldrowcroft@gmail.com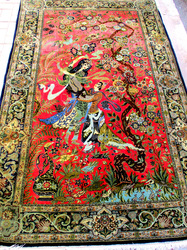 FINE OLD QUM PICTORIAL RUG FROM CENTRAL PERSIA. A superb example of graceful curvilinear designs finely woven by a gifted weaver. The portrayal is of two people under an old twisted tree in a garden of flowers and a small lake is relaxing to look at. Reference 3436. Size 236 x 143 cms., or 7ft. 3ins. x 4ft. Euros 445.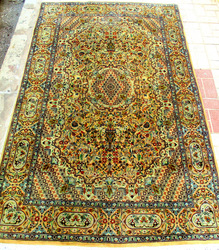 UNUSUAL KIRMAN RUG with a beautiful and complex centre panel of shrubs, urns and masses of flowers. The use of long stemmed carnations, some still n bud, the rest in full flow growing from a bed covered in hyacinths shows the use of centuries old designs. There are two fine necked ceramic urns each almost invisible in the dense colourful plants. The weaver has borrowed floral designs from the nearby village of Ravar in southern Persia where the finest of floral rugs are woven. Reference 3437. Size 230 x 134 cms., or 7ft. 7ins.,x 4ft. 5ins. Euros 420.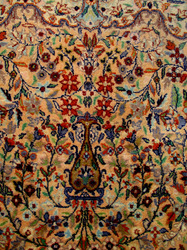 CLOSE UP of the massed flowers which provide a visual pleasure and can cause you to look at them for ages. The attribute of a masterful rug.