EL BAUL, ARTIFACTS AND ANTIQUES, PAGE 2.
ARTIFACTS AND ANTIQUES, PAGE 2.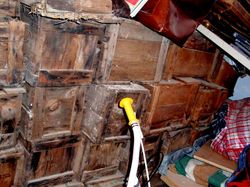 SEVERAL YEARS AGO in a run down storage warehouse hidden in the industrial zone of Malaga we discovered rows and rows, floor to ceiling, of these crumbling decaying wooden crates which were held in the upright position by the clever use of a lot of abandoned bicycles wedged against them. They were left there in the 1980s and apparantly abandoned. After an immense amount of work Michael tracked down the descendants of the original owner who died in 1989. He had stored them years before. We opened one box, discovered some pottery tiles and bought them. It was an act which kept us busy for 9 years. Cleaning and the making of new custom built storage/transport boxes took ages and we were only able to sell what we had cleaned and researched in small batches. They were bought locally and internationally by architects, collectors, interior designers and museums. Now we have just three panels left and they are featured below. Coincidentally they are the smallest, a medium and the very largest.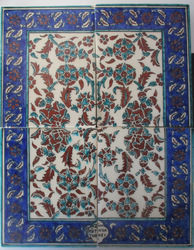 What we discovered were hand made, unglazed, pottery tiles from the workshop of Master Potter, Azim Cini, in the small town of Kutahya in western Turkey in the period 1925 to 1945. The towns of Izmit and Kutahya are both built on hillsides of pottery quality clay. Although Izmit was the better known internationally Kutahya was appointed to supply pottery to Government and important offices for the then dominant Ottoman Empire in the 1700s. Azim Cini signs all his work and the signature can be found usually in an outer border.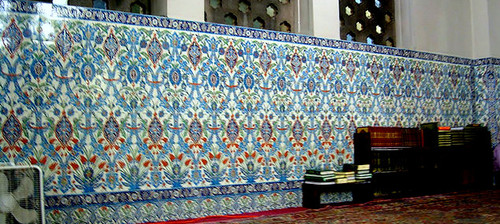 A reception room in the main Mosque in Washington D.C. has a huge panel made from the same design as the middle sized panel we have.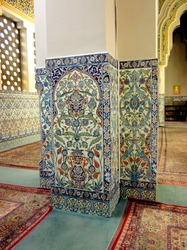 Panels made to measure fit these columns. The reception room described above can be seen at the far end of this space.
THE FOLLOWING PANELS ARE FOR SALE.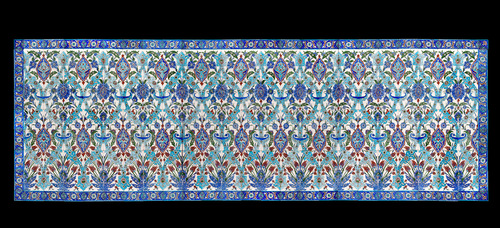 DECORATIVE PANEL of 255 underglazed pottery tiles from the workshop of master potter, Azim Cini, in Kutahya which is a small town in western Anatolia (Asiaic Turkey). The nearby town of Izmit is more well known for its pottery but as long ago as the 18th century Kutahya was appointed as the supplier of choice for many state and government buildings throughout the Ottoman Empire. These tiles were made during the peiod 1925 to 1945 and are from the same design as the huge wall panel which is part of the decor of the main Mosque and Islamic Centre in Washington, D.C. (shown above). Our panel is made up of tiles for the centre, borders and corners and measures 4,8 x 1,4 metres which is approximately 15 ft 9ins x 5ft 3ins. The tiles are packed for storage and transport is newly custom made ammunition type boxes. They fit snugly and each tile is separated by padding from the next. They will make a dramatic wall panel or table surface in a stylish home. Reference 8002. Euros 3750.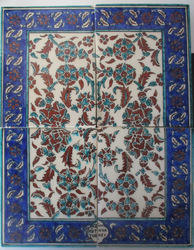 WE HAD TO REMOVE ALL THE BOXES from the original warehouse and found some loose and miscellaneous tiles. From these we eventually got round to making up a few small panels of from 4 to 8 tiles which sold quickly. This is the last and will make a unique stand for the coffee pot or simply a desk or table decoration. It is signed in the bottom border. Reference 8000. Size 43 x 34 cms., or 17 x 13 inches. Euros 75.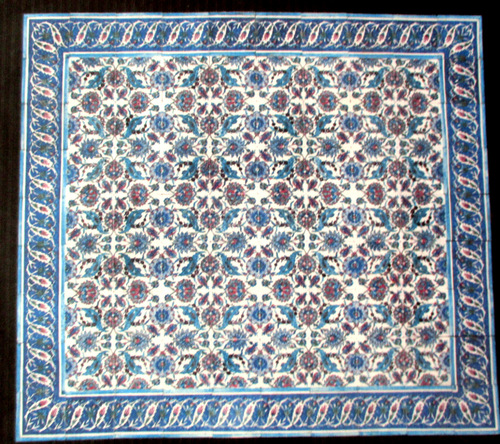 THE LAST UNIT PRESENTS ENDLESS PERMUTATIONS and is truly a unique opportunity to create one giant rectangular panel or several matching panels in rectangular, square and column shapes. There are 610 tiles of 20 x 20 centimetres or 8 inches square. There are also 379 border tiles each of 20 x 10 centimetres and finally 8 corner tiles. For a quick comparison please look at the photo at the top of this page which shows an enormous panel in a reception room of the Main Mosque and Islamic Centre in Washington, D:C. The 32 crates which hold the 997 tiles of our consignment will give you a panel of the same proportions. Because there are a good number of border tiles in our quantity you may make up several single or matching panels and have enough border tiles to complete them. There will still be ample for smaller panels. This quantity may suit an architectural practice or large interior design company where the tiles may be used in several dwellings or commissions. In the event that one person takes them all any unused ones can be sold on to admirers. (there will be plenty). The photo shows a small panel I made up of just 7 x 7 tiles with a border surround to give you an idea. Reference 8001. Guide price for the complete amount of 997 tiles including their custom made boxes is Euros 16,000. We will work closely with you to ensure the best results.