ARTEFACTS. 2. (THIS PAGE IS UNDER CONSTRUCTION)
ARTEFACTS. 2.
Behind the actual weavers in every rug weaving country from Morocco in the west to China in the east there is an army of skilled artisans who make the items they need. Other equally skilled workers make or process the materials such as looms, dyes, wool, silk, cotton and goat hair. In the major cities designers work on graph paper to out-create each other to draw magnificent intricate designs.

Other artisanal workshops make or repair furniture, ceramics, leather work and utensils and tools for houses, huts and tents.
I have been fortunate enough to travel many times in Morocco and Central Asia seeking out rugs. I also learned from restorers but I could never resist spending time looking for unusual artefacts.
Use one as a unique item in your decor.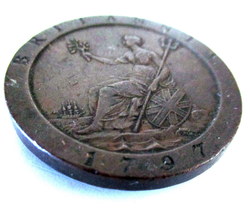 1797 GREAT BRITAIN "CARTWHEEL" TWO PENNY COIN. These are the most unusual coins ever made in Britain. To conquer mass counterfeiting of the coinage the government used the Soho Mint in Birmingham to undertake legal production. They were known as "Cartwheel" pennies because of their resemblence to a wheel with a raised rim around the edge. They were twice the thickness, and eight times the weight, of the penny coins used before them. Merchants and customers disliked the weight and size thus manufacture was discontinued at the end of 1799, although the date on the coins for the whole period remained as 1797. The face is of King George the 3rd. The reverse shows Britannia and below her shield the word "Soho" appears. Euros 75.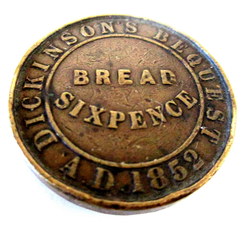 CHARITY TOKEN FROM MID VICTORIAN LONDON, DATED 1852. Most people associate the run down area of Whitechapel in London`s poor East End of the late 1800s with the notorious murderer known as "Jack the Ripper", however there was good work going on as well. Benevolent businessman, Thomas Dickinson, bequeathed to the Rector of the local church of St. Mary a substantial sum to be used for the making of charity tokens which poor people could exchange for bread, coal and potatoes. The seller could then redeem the tokens for cash from the Rector`s fund. Care was taken to give the tokens to the woman of the family so that errant husbands could not squander them on beer and other vices. It is not known who actually made the tokens nor how many of each were made and there seems to be little information on the net. Curiously I worked in London for 7 years and lived in a hostal where, according to local history, one of Jack the Ripper`s murders was carried out. I can vouch that little architectural progress had been made from the Victorian times. Electric street lights had replaced the gas ones, but that was all. Euros 95.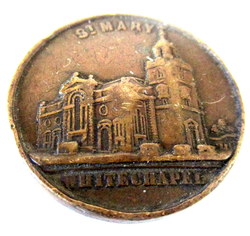 THE CHURCH OF ST. MARY IN WHITECHAPEL was just outside the city of London boundary. It was destroyed by fire in the second world war and replaced by a memorial garden.