EL BAUL, ARTIFACTS AND ANTIQUES, PAGE 5.
This page is under construction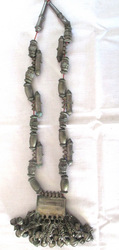 YEMEN SILVER NECKLACE - a heavy and well made item for use on special occasions or ceremony. Items such as amulets, beads and other smaller pieces normally used in bracelets and adornments have all been gathered together to make this impressive necklace. It dates from the early 1900s. Reference 3451. Size 50 cms., or 32 inches long. Euros 95.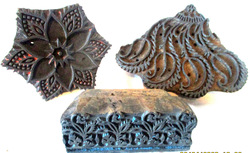 A COLLECTION OF THREE ANTIQUE WOODEN PRINTING BLOCKS from Rajesthan in North West India. Although printing cloth by using a hand carved wooden block, which has a design carved into one surface, is practised in several Asian countries it is most commonly associated with India. The designs are drawn in a way that allows them to be stamped close together and provide one whole picture. It is skilled work. The preparation of the material to be printed on is a long process. Hand blocked printed or painted cloth is a small segment of the overall Oriental Rug and Textiles subject, but a fascinating one nevertheless. References 3452, 3453 and 3455. Euros 18 each.