MEDIUM RUGS 2
HERE YOU WILL FIND rugs of the size 181 to 275cms., or 6ft. to 9ft. long. with various width sizes.
Please send any questions or enquiries to me at ldrowcroft@gmail.com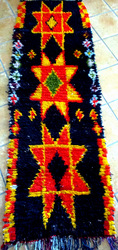 MOROCCAN BERBER RUG from the region of Azilal in the eastern Middle Atlas Mountains. This piece is woven with odd lots of wool left over from other weavings, cottons and strips of textiles. The overall effect is quite stunning in its depth and powerful richness of colours. It is a tribute to the Berber philosophy of nothing is wasted. Display on a wall, table top or throw over a bench or sofa, or use at the foot of the bed to greet the bare toes - I am sure there are other uses as well. Reference 3410. Size 270 x 70 cms., or 9ft. x 2ft. 4ins. Euros 190.